Day 5: A Movie That Makes You Happy
The Impostors
I don't even really know why I love this movie so much.  It's definitely a love-it-or-hate-it movie.  Normally when I watch a movie with this type of absurdly ridiculous humour, I get angry that someone's brain spewed such nonsense and called it funny.  But here, there's something about this movie that changes it from an absolute no-no to I'm-just-going-to-dance-around-the-room-and-smile-until-it's-over.  (Unless my least favourite scene is on — then I am angry at the absurdity, haha.)
Maybe it's the comedic pairing of Oliver Platt and Stanley Tucci.  Perhaps it's Steve Buscemi's suicidal character whose name is ironically "Happy."  Maybe it's how all the stories get tied together by the end of the movie.  Maybe I just happened to rediscover it at the tail-end of the time in my life when I might consider this sort of stupid humour as actually being funny.
While it's a mix of a bunch of reasons, I'm convinced it's mostly the last point.  It also wouldn't have been possible without the first.  I love Platt and Tucci as actors, and their characters in this movie are absolutely adorable with their child-like innocence.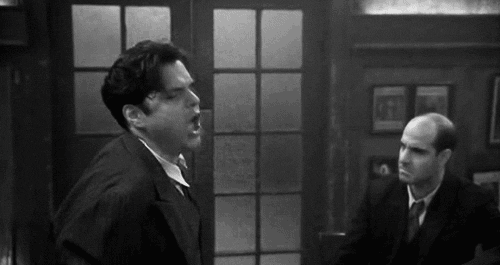 What movie makes you happy?
---
Find me on social media:
INSTAGRAM: @kuri_thevegan
TWITTER: @KuriTheVegan
SNAPCHAT: @KuriTheVegan
FACEBOOK: Kuri the Vegan
TSU: @KuriTheVegan